Cookie Policy
This policy explains what cookies are and how they are used on JD Williams (including Crazy Clearance), Simply Be, Jacamo, Fashion World, Julipa, Ambrose Wilson, Marisota and Premier Man websites and applications. We encourage you to read the policy in full so that you understand what information we collect using cookies.
Summary
A cookie is a simple 'text file' which typically contains two pieces of information: a site name and a unique user Identifier using your Internet Protocol address. If you agree, we will store these Cookies on your browser or hard drive when you visit one of our websites. We use the following four types of cookie:
Strictly Necessary Cookies
+
These cookies are essential to make our website work. Without these cookies,our website cannot operate effectively-Things like 'Wishlist', 'Checkout' and 'Add to Bag'.
Analytical and Performance Cookies
+
These cookies allow us to measure and analyse how our customers use the site, to improve both its functionality and your shopping experience.These cookies do not collect information that identifies you, instead they aggregate masses of data to provide information about how our website is performing.
Functionality Cookies
+
When you arebrowsing or shopping, these cookies remember your preferences and help improve your shopping experience. These include things like remembering your browsing and language preferences or your chosen image size, meaning we can serve you the best possible experience each time you visit our site.
Targeted Advertising Cookies
+
These cookies record your visit to our website, the pages you have visited and the links you have followed.We use this information to deliver advertisements which are more relevant to you. They create personalised content that helps display advertisements that are relevant to you such as product recommendations and styles that you will love. We may also share this information with third parties for this purpose and you may see our advertisements while using other third-party websites.
By using our website, you agree to us placing these sorts of cookies on your device and accessing them when you visit our website in the future. You can delete any cookies that are already on your device through your browser and opt-out of targeted advertising cookies here.
Our Cookies
To make full use of your online experience,your computer or device will need to accept cookies. If cookies are notenabled on your computer or device you will be unable to log in, add products to your shopping bag,make purchasesor receive an experience personalised to you.
You can find more information about the individual cookies we use and the purposes for which we use them for in the below tables:
Strictly Necessary Cookies
+
| | |
| --- | --- |
| Cookie name | Cookie purpose |
| JSESSIONID | The cookie stores the website session Identifier meaning that the session and activity associated to the session can be identified. |
| OEID_REGISTERED_CUSTOMER | Without this cookie the website would sign you out of your account continuously. |
| secureToken | Without this cookie, any secure content such as SignIn, Registration and Check Out cannot be completed. The cookie enables you to access secure pages on our website. |
Analytical and Performance Cookies - Non Personalised
+
Cookie name
Cookie purpose
usy46gabsosd
celbrusInsert.js
session.js
Celebrus Cookies helps us capture a complete picture of our customers behaviour and experience whilst on our website, creating events in real-time for analytical purposes.
sc.UserId
sc.Status
sc.ASP_NET_SESSIONID
sc.ASP_NET_SESSIONID
SessionCamTestCookie
Session Cam Cookies are used to help us better understand website users behaviour and bring to our attention the most important problems to fix on our site. This is achieved through recording session activity on our website that we can analyse and watch back at a later date.
Personalisation Cookies
+
Cookie name
Cookie purpose
remember_user_token
dressipi_status
last_login
_jdwilliams-dressipi_session
_gat
_gid
_ga
StyleMania (or Dressipi)is a third party which provides our customers with accurate product recomendations from our own product ranges based on data our customers providein a survey. Dressipi presents a survey to customers asking various questions to help determine the best products to present.
rr_rcs
mvtid
mvtdebug
Rich Relevance Cookies are used to present our customers with the most relevant product recommendations based on their browsing behaviours, past purchases, popular items and what other customers bought. An example of this could be a carousel showing handbags which match the dress you are currently looking at.
NoCookie
NoCookieEU
BVID
BVSID
BVBRANDID
BVBRANDSID
Coppa_
Bazaarvoice Cookies are used to help support the presentation of reviews, question and answers across our websites for the products we sell.
productGridView_3x
We use this Cookie to remember our customers preferences around larger or smaller images on the Product List Page for the next time they return to our websites.
mt.promoName
mt.added
mt.removed
mt.promoAttempt
mt.impression.NUMBER
mt.dressesCookie
mt.cbc-NUMBER
mt.cbt-NUMBER
mt.v
mt.s-lbx
mt.i-lbx
mt.t-lbx
mt.c-lbx
mt.sac_NUMBER
Monetate Cookies are used as our personalisation engine to display relevant promotional messages, offers, and creative on our website. Monetate helps us quickly piece togetherdata from a variety of into a single view of our customers that then allows us to target experiences in real-time for our customers. An example of this could be a banner showing a promotional code if you are a new customer.
taggstar_exp
taggstar_ses
taggstar_vis
Taggstar Cookies are used to display Social Proof messaging to our customers on our Product Details Page. These may be messages similar to '100+ of these have sold in the last 24 hours', or 'Selling Fast'
Functionality Cookies
+
| | |
| --- | --- |
| Cookie name | Cookie purpose |
| AccountRef | We use this cookie to pre-populate your account number on our sign in page, saving you time each time you log in |
| titleCookie | This cookie enables you to use our 'Bag Share' functionality, allowing you to shop across our sister websites using the same account where applicable. |
| SESSION_TIMEOUT_INFO | We use this cookie to remember what state your session was in so if it times out, we can replicate the state of the page you were on when you log back in again. |
| cookiePolicy_accepted | Without this cookie, the cookie banner presented when you first land on the website would remain static across all pages you browse. |
Targeted Advertising Cookies
+
To ensure we are providing effective and relevant products, or content of interest, we dynamically change our cookies. For this to work effectively, we collect information about your browsing activity using Target Advertising Cookies, for more information about how we use cookies for direct marketing purposes please see our Privacy Policy. You can choose not to receive targeted advertising from uson third party websites by opting out on the Your Online Choices Website.
Controlling the Use of Cookies
You can enable, disable and delete cookies through your browser. If you choose to disable cookies, our website may not operate correctly and you may not be able to access secure areas of our website or make purchases. If you choose to delete your cookies, you may have to update your preferences with us again and the experience you receive upon returning to our site for the first time may be slightly degraded until our cookies update with your preferences again.
Click the links below to learn how to manage your cookie preferences through your browser:
Microsoft Internet Explorer
Google Chrome
Mozilla Firefox
Safari
Advertising on other third party websites
We use Targeted Advertising Cookies to remember the products and services you are interested in when browsing our website. If you later view certain selected third-party websites or social media platforms, we areable to provide advertisements relating to those products and services that you have shown interest. The advertisement could appear in different formats,such as this example below: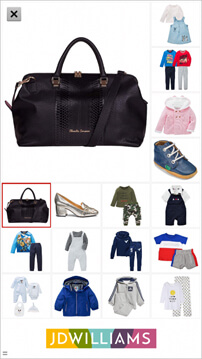 You can opt out of targeted advertising shown on third party websites at any time on the Your Online Choices Website. or clicking the double lines in the bottom corner of the advertisement. If you decide to remove all your browser information including cookies the adverts will appear again following your visit to our website as the information will have been lost.